11 Jul 2019
|
05:26:56
Agriculture Ministry to train 12,000 'millennial farmers' in Bali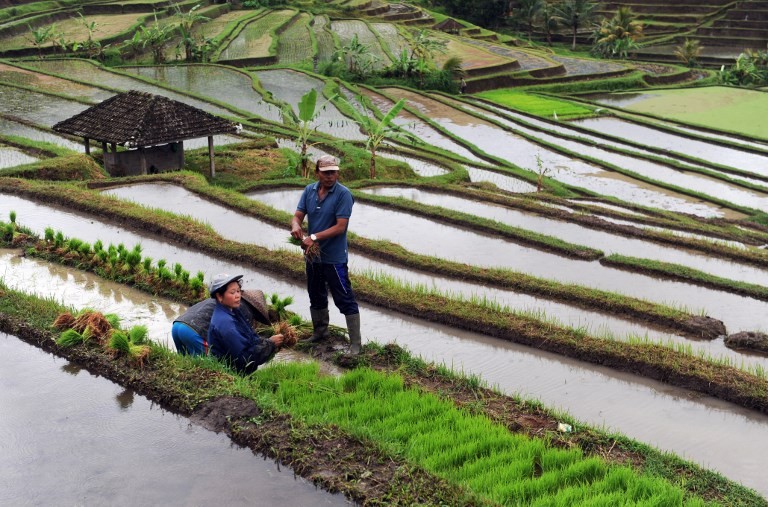 I Made Agus Wijaya, 29, spends most of his day in front of his computer at an elementary school in Bangli village, Tabanan, Bali. From 8 a.m. to 4 p.m, Monday to Friday, he works at the school.
Once his working hours are done, he changes into a T-shirt and shorts, takes a sickle and heads out into the rice fields.
"My father was a farmer. I should continue what he did," Agus said.
Agus was taught to farm by his late father since he was 6 years old. He is used to getting dirty and working under the scorching sun.
"It doesn't matter. I enjoy it," said Agus, who now manages a 7,000 square meter plot of land he inherited from his father. Agus also allows parts of the land to be managed by other farmers who share their profits.
Agus said he was proud of being a farmer although many do not aspire to take up the profession these days. "Most young people in the city think becoming a farmer would lower their status. They don't know that many farmers send their children to university. If done seriously, farming is a fruitful endeavor," he said.
The only thing that worries Agus is the decreasing value of harvests.
Although he is confident he can continue farming and would never sell his father's land, Agus said he could not leave the school. He is also pursuing an undergraduate degree at a local university.
"I just need something that keeps me informed but I would never stop farming. I am the son of a farmer and I will preserve my father's legacy," he emphasized.
Agus is one of a small number of young people in Bali who are still eager to work as farmers. The rapid growth of tourism on the island has not only led to massive urbanization but has also seen many young Balinese born into farming families decide to work in tourism, leaving many plots of land abandoned, which are eventually converted into tourism areas.
"This problem not only occurs in Bali and Indonesia. It's a problem all over the world," Agriculture Ministry official Syukur Iwantoro said.
In an attempt to encourage young people to continue farming, the ministry has launched a farming training program in Badung regency with the goal of educating more than 12,000 young "millennial farmers" from across the island.
More than 500 farmers from nine regencies and cities joined the first phase of the program this month.
Syukur said similar programs would be developed in all provinces in the country.
The government has declared 2019 the year of the Indonesian farmers' revival and has attempted to improve farmers' access to capital, markets and technology to improve their productivity.
"Millennial farmers will be the backbone of agriculture in the future," he said.
Syukur added that Indonesia had also been appointed as the world's pilot project for farmer regeneration. The program is supported by the International Food Agriculture Development (IFAD), which has given US$50 million for the program in Indonesia for three years. The program focuses on fostering young, productive and modern farmers.
Agus, who has also joined the program, said he was very happy to be able to take part. "The most important thing for me is how to keep the prices of our products steady. That's our greatest concern as farmers," he said.
https://www.thejakartapost.com/news/2019/03/13/agriculture-ministry-to-train-12000-millennial-farmers-in-bali.html